Tours Guide to Hong Kong
---
Overview
Hong Kong, a Special Administrative Region (SAR) of the People's Republic of China (PRC) since July 1, 1997, continues to enjoy a high degree of autonomy, except in the areas of defense and foreign policy, and retains its own currency, laws, and border controls. It is composed of three geographic areas: the New Territories, Kowloon Peninsula, and Hong Kong Island. Hong Kong SAR is a very cosmopolitan and highly developed city. Tourist facilities and services are widely available. The Hong Kong SAR government has a web site in English at http://www.gov.hk/en/nonresidents/visitinghk/cityatt/, which provides useful information on a comprehensive range of subjects.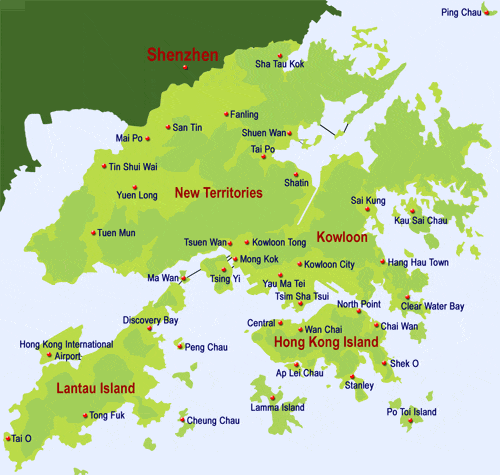 Map of Hong Kong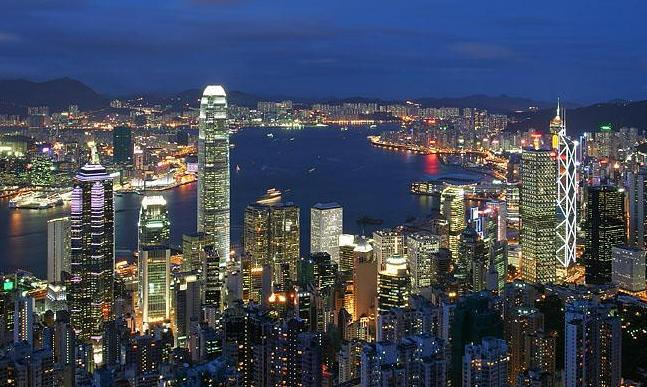 View of Hong Kong
---
General Information
Climate
Hong Kong has a subtropical climate:
Spring (March-mid-May): Temperature and humidity rising. Jackets or sweaters suggested. Average temperature: 23˘XC (73˘XF), humidity around 82%, sea temperature, 22.3?C (72?F).
Summer (late May-mid-September): Hot and humid. Temperature may rise to 33˘XC (91 ˘XF) with humidity up to around 90%. . Shirtsleeves, cotton clothing, a sweater for indoors and an umbrella for outside suggested. Average temperature: 28˘XC (82˘XF), humidity 80%, sea temperature 28˘XC (82˘XF).
Autumn (late September-early December): temperature and humidity drop. Clear sunny days. Shirtsleeves to sweaters and light jackets suggested. Average temperature: 23˘XC (73˘XF), humidity 72%, sea temperature 17˘XC (63˘XF).
Winter (late December-February): Cool with low humidity. Suits, light woollens and sometimes overcoats suggested. Average temperature: 17˘XC (62˘XF), humidity 72%, sea temperature 17˘XC (63˘XF).
Currency/Foreign Exchange
Hong Kong has its own currency, the Hong Kong dollar, which is linked to the US dollar, and trades at around HK$7.8 to US$1. For purposes of exchanging currency there is little meaningful fluctuation. The Hong Kong dollar is freely convertible, and there are no exchange controls. Visitors can exchange foreign currency at any bank or exchange shop, or at the cashier counters of hotels.
US dollars or any currency may be bought and sold on the open market in Hong Kong, including the Chinese mainland renminbi (RMB). Hong Kong dollars are the only legal tender in Hong Kong.
Time Zones
Hong Kong is UTC+8 hours and does not have daylight savings time. Hence, Hong Kong is ahead 13 hours of Eastern Standard Time.
Language
English speakers find it easy to work and live in Hong Kong. English is one of Hong Kong's two official languages, along with Chinese. Since English is a mandatory subject in government-run schools, everyone has studied it, some quite extensively. Airport signs, street signs and notices are posted in English as well as Chinese. English-speaking visitors and residents can communicate in English in all hotels and in taxis, as well as shopping malls and retail outlets of any appreciable size.
Cantonese is the Chinese language spoken at home by about 90 per cent of the people in Hong Kong. Mandarin Chinese (Putonghua), the official language of the People's Republic of China, is spoken differently from Cantonese but widely understood. English speakers usually have no need to try out Mandarin Chinese in Hong Kong unless meeting friends or business contacts from the Chinese mainland.
Getting around Hong Kong
Hong Kong is served by an efficient, low-cost public transportation system that makes getting around town quite easy. This system includes the Mass Transit Railway (MTR) subway system, Kowloon-Canton Railway (KCR), Light Rail Transport, buses, trams, taxis and ferries. The MTR is reasonably priced, safe and fast, with trains running every two to four minutes. Four lines interconnect at several main stations, with more lines under construction or planned. Regular users generally buy an "Octopus" stored-value card. Most underground stations have banks, dry-cleaners, florists, instant photo machines, clothing shops, newsstands and bakeries. There are facilities for the disabled at all stations. www.mtr.com.hk
Taxi fares are charged by metered tariff and, relative to other major cities, are reasonable. When crossing the harbour by either tunnel, the two-way tunnel toll is added to the fare. With other tunnels, only the one-way toll is added. There is an extra charge per piece of luggage. Tipping is usually confined to small change. There are three taxi jurisdictions - urban, which covers Hong Kong Island and Kowloon, New Territories and Lantau Island.
Business visitors can hire cars by the hour or by the day from reputable car agencies. Hotels also provide hired car services for their guests.


Offices and Banking Hours
Most Government offices will start service to the public from 09:00 to 17:00 on Weekdays, for private business companies, usually they will start from 08:30 and work until 18:00 with one hour lunch break in between. Department Stores and Shopping Malls will open daily from 10:00-22:00.
The banking hours are normally from 09:00 to 16:30 on Weekdays and 09:00 to 12:00 on Saturday. Some branches in the tourist and commercial areas will open until 18:00 on Weekdays and 15:00 on Saturday.
Most offices will close on Saturday afternoon, Sunday and Public Holidays.
---
Accommodations
Accommodation varies in Hong Kong. from the really run-down guest house to the five star hotels. It depends on your budget. There are two useful websites, by which you can find a comfortable hotel.
http://www.hongkonghotels.net/
http://www.hotel-hong-kong.com/
---
For such a minute island-country, Hong Kong's manifest of restaurants is unimaginable. In every nook and cranny, there are accessible restaurants serving varied selections of deliciously appetizing cuisine. Price ranges according to the districts and type of cuisine. There are many affordable private restaurants around the island that serve the same presentable dishes as the hotel restaurants.
Then, where to eat?
AH-SO Japanese Restaurant
The Restaurant is in the heart of the Harbour City 700, Tsimshatsui of Marco Polo Hotel is in perfect keeping with its neighbourhood.

China Coast Bar & Grill
Probably the first and the only Bar & Grill in the area, the China Coast Bar & Grill is unique of its kind.
Cafe Aficionado
With an artistic theme carried through the decor, uniforms and tabletops, Cafe Aficionado offers the best in Oriental and Western fare around the clock.

M Kitchen
The restaurant dominates the upper floor while the lower level is the bar and cigar room. Immediately to the left after the main front doors is a huge array of fine wines on display from all over the world. 70% of these wines are imported from France while the rest come from Spain, West Germany, Italy, Chile, and other parts of Europe.

Bravo
Bravo is situated in Central - heart of Hong Kong. Being a self-service boutique cafe, Pizza, Pasta, Oriental Rice & Noodles, Sandwich, Salad, Baked Potatoes, Fresh Fruit Juice is served at reasonable price.

San Francisco Steak House
We learned early that if you want to be the best at something, then you should not worry about the cost or the trouble. That is why our Certified Angus Beef is the most beautiful (and costly) in Hong Kong.

T.G.I Friday's
Being the first American casual dining restaurant, T.G.I Friday's ensures you of the most relaxing and decorative environment to enjoy your dining experience of our great variety of food and beverages to be served by our friendly people.
---
Ocean Park is located in the South District, it is an enjoyable and meaningful place for kids or the young at heart!
Ocean Park is an amusement park filled with roller coasters, slides, swings and other fairground rides. It's on a huge scale and a lot of fun if this is your thing. There is also a sea life center here, complete with penguins, seals, sharks and killer whales! A cable car runs through the park connecting with the Middle Kingdom, a slightly naff collection of Chinese model villages, pagodas etc.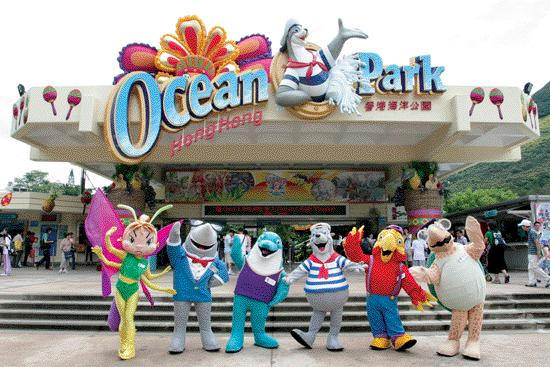 Ocean Park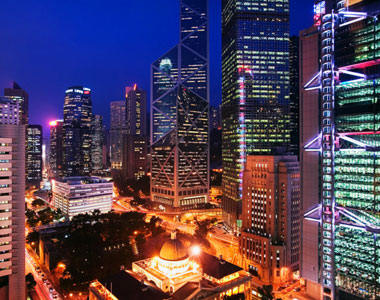 Central District of Hong Kong Island
Central District
The Central District on Hong Kong Island is the financial and economic hub of Hong Kong. First impressions are of an organic mass of glass and concrete, a veritable forest of tall skyscrapers with the green hills behind them. Most spectacular among the many extravagant buildings is the 180 m high tower of the Hong Kong Bank, designed by Norman Forster. If your hotel is in Kowloon you should take the Star Ferry to cross the harbour - the Star Ferries are famous symbol of Hong Kong. The green-and-white boats have been in use since the 1880s!. The trip with the ferry from Kowloon to Hong Kong Island takes about 7 minutes and should not be missed, because you get a very good view of the harbour as well as an impression of daily Hong Kong life.
HK Conference and Exhibition Centre
Hong Kong is a major conference and exhibition center. Hundreds of international exhibitions are held annually. The Hong Kong Conference and Exhibition Center (operated by the governmental Hong Kong Trade Development Council), has approximately 500,000 square feet of exhibition space, including 300,000 square feet added in a major expansion completed in the summer of 1997. A privately built facility, the International Trademart, opened in Kowloon Bay in early 1996 with 158,000 square feet of exhibition space.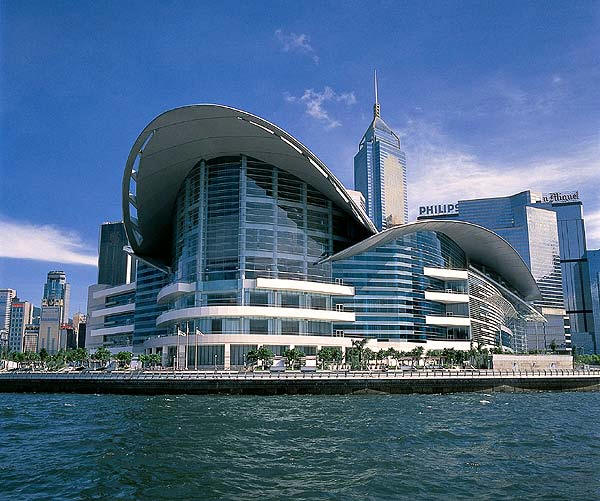 HK Conference and Exhibition Centre
Repulse Bay is situated on the south coast of Hong Kong Island, with many beautiful beaches such as South Bay, Repulse Bay, Deep Water Bay and Middle Bay. Repulse Bay is a popular beach for water activities and picnics all year round.
Lantau Island
Lantau Island, with a size twice as big as Hong Kong Island, is the biggest island to the west of Hong Kong Island. Visitors can take a bus or the mass transit railway and reach the heartland of Lantau within 30 minutes from the city center.
With wild countryside, monasteries, old fishing villages and seriously secluded beaches, Lantau Island, for those who are tired of the noise and polluted city life, is definitely a place to visit or even to live with. There are a lot of outdoor activities that people can do such as hiking, mountain biking, camping, fishing and etc.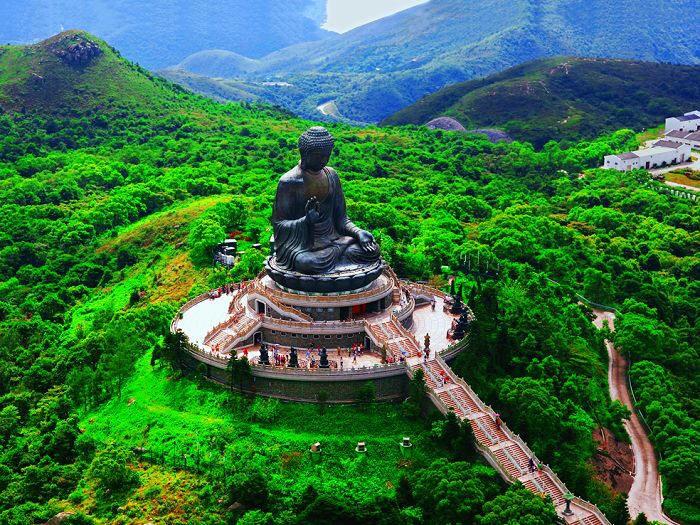 The giant Buddha in Lantau Island
Mongkok/Ladies Street
Mongkok, a district in Kowloon with the highest population density in Hong Kong. Here alone live an estimated 165,000 people per square kilometre. There are not so many large shops, but there are numerous markets here which offer a different sort of bargain to be snapped up. You can shop with the locals at Sai Yeung Choi Street for audio-visual products and mobile phones, and Fa Yuen Street for sports and export outlet goods and fashions.
Ladies Street located in Tung Choi Street, Mong Kok. It length 500M divided into 4 sections. Since all the shops in the street were sold women clothing and commodity in past, so people called it "Ladies Street". A very famous computer centre is also beside the street.
Nowadays, there are wide range of goods for you to chose, not only women commodity, so it's a good shopping place for local people and foreigner.
The business hours is from 10:00 a.m. to midnight.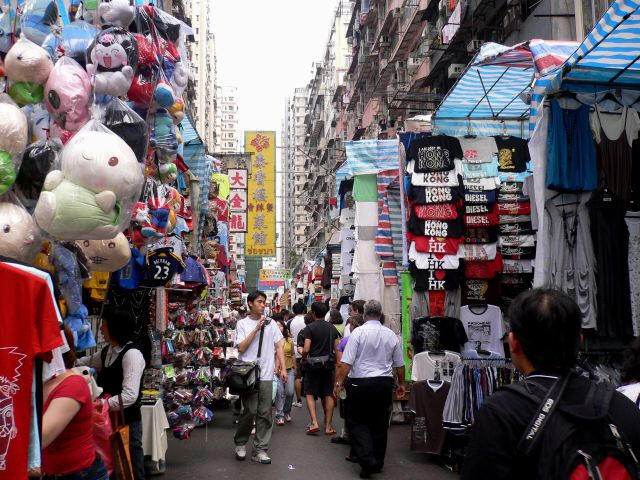 Mongkok scene
---
ICMB International Conference on Medical Biometrics 2010